Of Fire & Fae (Complete Duology)
In stock
Romance, drama, and mystery abound in this upper-YA romantic fantasy for fans of forbidden love, enemies to lovers, family sagas, royal intrigue, and mysterious magic.
Free Shipping on U.S. orders of $150+
A forbidden fae kiss could be deadly.

Naia was raised in the shadow of her twin brother, the crown prince, who has iron magic much more powerful than hers. But Naia has wishes of her own. They awaken when she finds a white fae almost dying in the woods. She only heard of them in stories; the dreaded race that razed cities to the ground, killed her grandparents, almost rid Aluria of humans—until they disappeared. Now, almost twenty years later, are they back? Is there another war coming?
But the fae is evasive and secretive—and also alluring and fascinating, more beautiful than anyone she's ever seen. And then it happens: Naia kisses him—and nothing will be the same again.
In another kingdom, Leah, a necromancer princess, has to find a husband in less than four days, during the gathering, when royals from all over Aluria meet. Her family makes it very clear that she can pick any prince she wants—except one: Naia's brother. And it turns out that he's the one; the one who makes her heart beat faster.
Meanwhile, war looms over the land. One of the kingdoms is amassing immense power. The White Fae might be returning. Amidst it all, Naia and her brother struggle with newfound magical powers, family secrets, and most of all, their own treacherous hearts.
2 Hardcovers (signed with a signature stamp)
Bookmark
Psychological abuse, physical abuse, death of a loved one, gaslighting, sexual harassment, attempt at sexual assault.
Enemies to lovers
Forbidden love
Sibling bond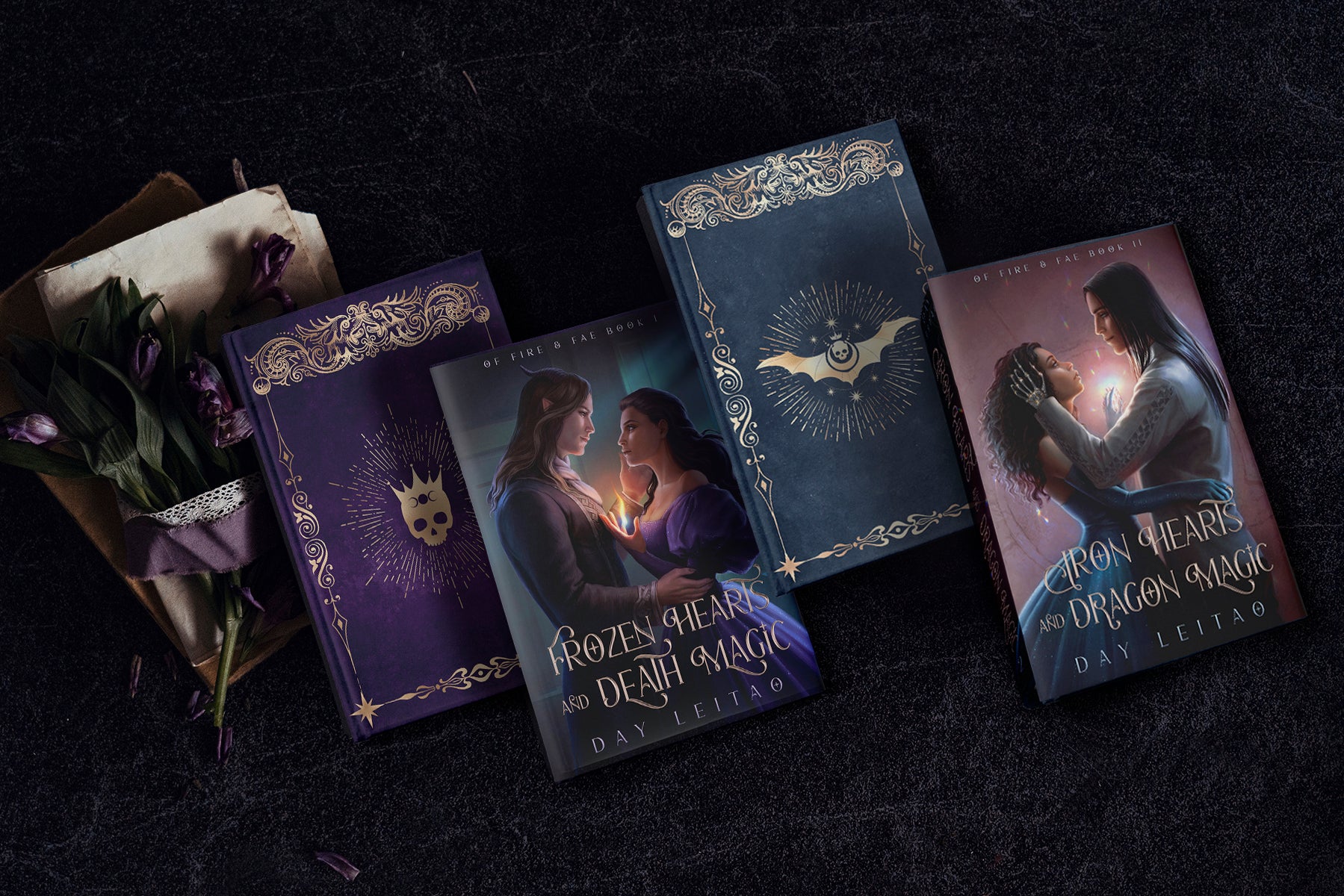 Preview
Of Fire & Fae (Complete Duology)
She looked back in his direction, making an effort not to pay attention to his astonishingly compelling looks. There was a lot she wanted to understand, and she couldn't afford to be distracted. "You're the first fae to be seen in Aluria in many years. There must be a reason."
He stiffened and his eyes widened, then he looked away. Or maybe it was an impression, as he turned back to her and chuckled. "We also live in Aluria."
"But you weren't seen," she insisted.
He shrugged. "Maybe your kind didn't look." He then stared straight into her eyes. "Ask me something, Naia. I can give you anything you want." His voice was a soft caress in her ear.
Anything? Her attention was again drawn to his lips. She swallowed. It was unlikely that she'd ever again see any man half as good looking as him. It was unlikely that she would ever again be alone with someone like that. The idea that was coming to her was so strange and scary that she didn't even dare think about it.
"What do you want from me, Naia?" he insisted.
There was an entrancing softness in his voice. He'd managed to make her name sound like music, a lullaby soothing her into wanting. It would be bold and wrong and inappropriate. Bold and wrong. Her father would be furious if he learned she did that. His pure daughter, meant to be single forever. Perhaps that was a good reason to ruin his absurd wishes. Undisturbed in her room, she could have wishes of her own.
"Kiss me." She didn't feel embarrassed, afraid, or ashamed. The voice was hers and wasn't. It was the voice of a different Naia, one that had been imprisoned, gagged, and bound. And it was free now.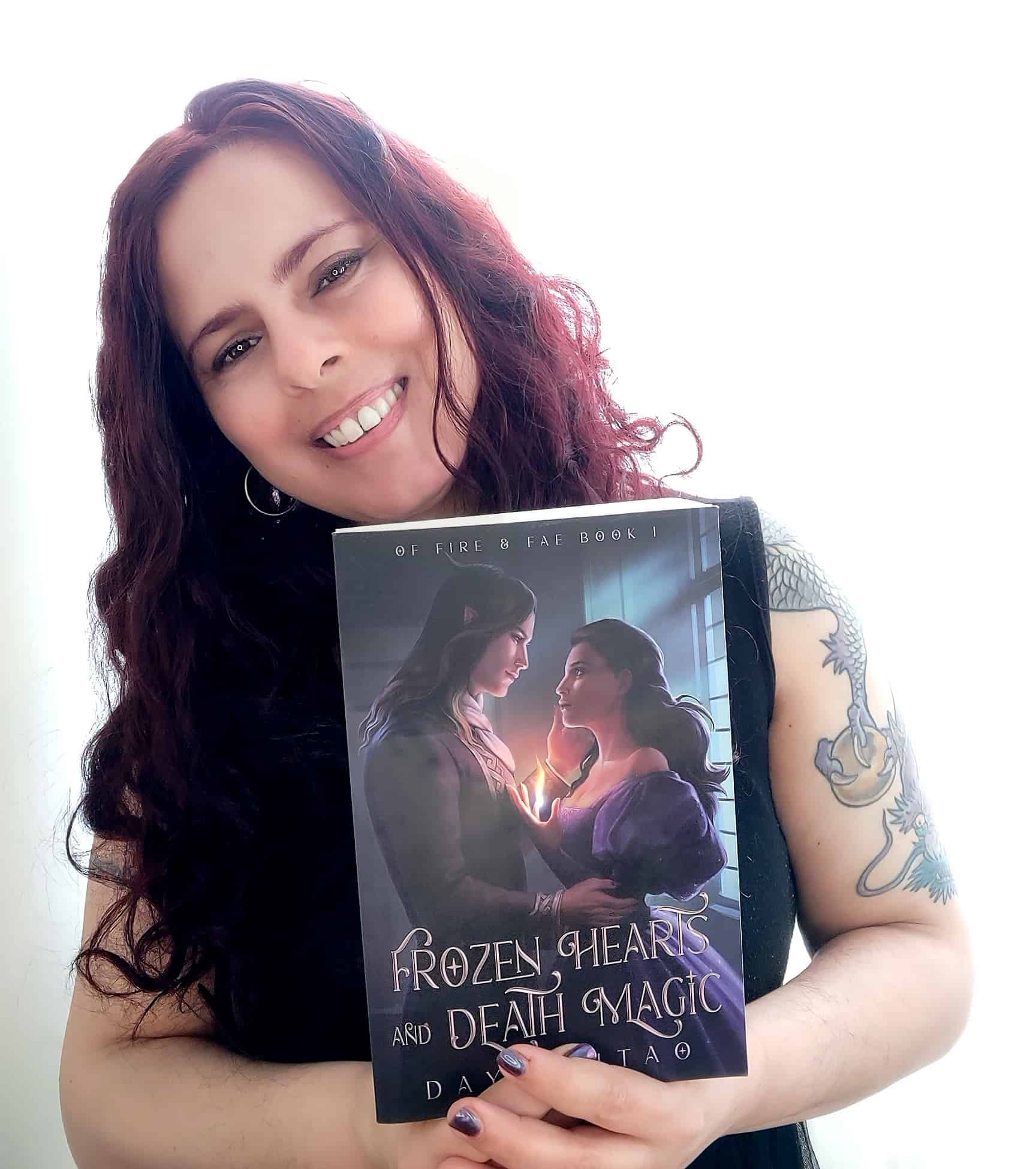 About
Day Leitao
Day Leitao believes in the power of stories, the power of characters, and she writes books with heroes (of both genders) finding their own magic and opening their hearts. Of course, there's also the banter and all the shenanigans that happen when personalities collide. 😂

Originally from Brazil , she lives in Montreal, Canada