Harbinger of the End: A Tale of Loki and Sigyn
In stock
A reluctant bride.
A trickster groom.
The lineage of a god comes to an end.
Free Shipping on U.S. orders of $150+
Long ago, Loki and Odin swore an oath of brotherhood. Since then, Loki believes that it is enough to love one soul, and wreak havoc on all else, until he learns that he is the one who will be responsible for bringing about the Twilight of the Gods. In a desperate attempt to forestall Ragnarök, Odin betrays his brother and forces him to take a bride. A Valkyrie, someone who will be loyal to Odin, and doubtless keep the god of lies in line. But if Odin believes that Loki will be controlled by the whims of one woman, then he is terribly mistaken.

Sigyn has never regretted the decision she made to leave behind her life as a mortal princess to serve Odin as one of his Valkyries, until now… When Odin orders her to marry Loki, Sigyn feels trapped by her duty and the oaths she swore. Even worse, to marry means that she will no longer be a Valkyrie, and she will lose all immortality that comes with it.

Tricked during his wedding vows, Loki finds himself exiled to Midgard and bound to a mortal. Now he must keep his new bride alive long enough to find her a new form of immortality or risk being dragged into death with her. Sigyn seeks to find a new purpose after everything that she once believed in betrayed her. Allying themselves to great mortal heroes, they set out to slay a dragon, claim a legendary treasure, and unite kingdoms. All the while, seeking to discover the truth to the question that could change their lives forever—what makes one worthy of becoming a god?

This standalone is perfect for romantic fantasy fans and readers of Emma Hamm and Sylvia Mercedes, who are looking for a new slow-burn, swoon-worthy story. It's a sweeping tale of love, betrayal, and dragon fire set in a world of Vikings, witches, and gods.

Hardcover
Signature Stamp
3 Art Prints
4. Romance with a bit more moderate content (fade to black sex, no sex on the page)
arranged marriage
forced proximity
morally grey antihero
slow burn romance
myths retelling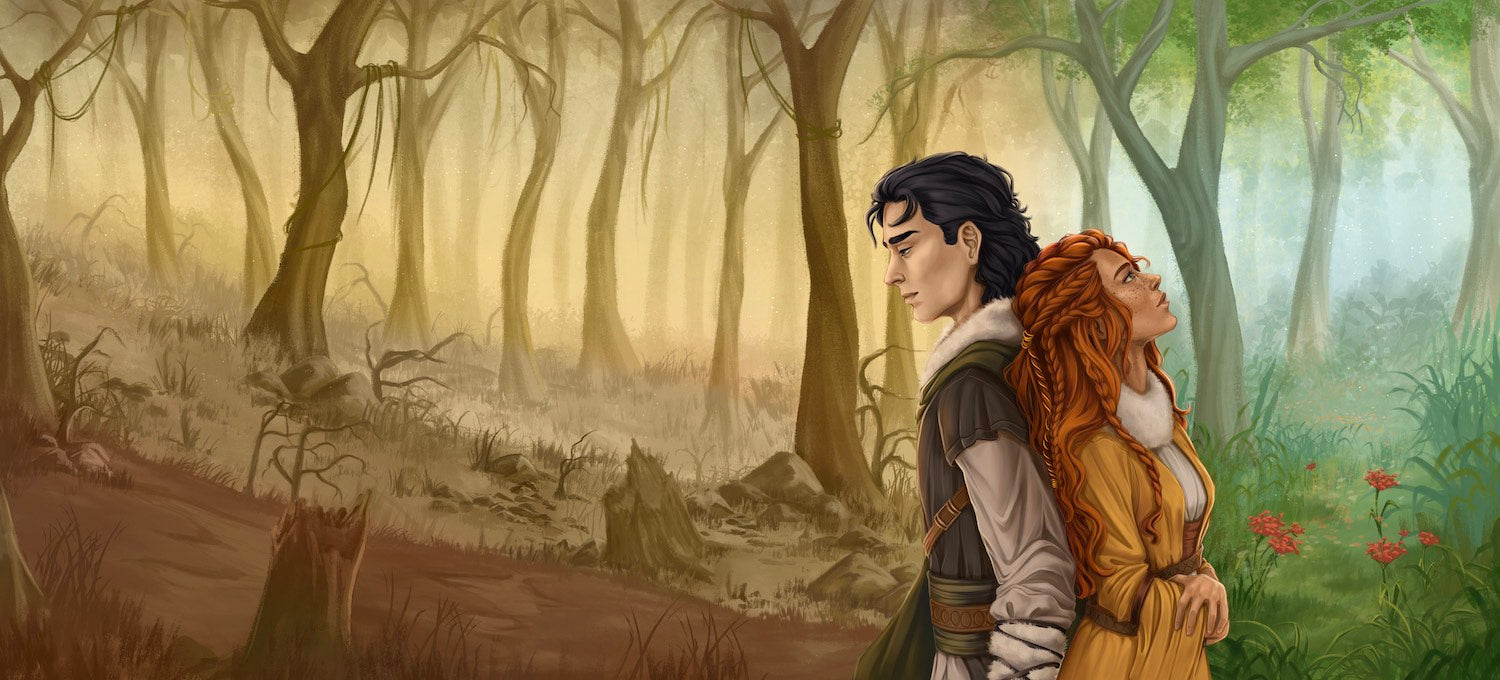 Preview
Harbinger of the End: A Tale of Loki and Sigyn
He is Loki, the god of lies, the bringer of the end. He will someday father monsters, if the tales are to be believed. He is full of trickery and deceit, but he is also the guardian of the outcasts. He is the bringer of laughter and merriment. He is fearless and knows his worth. He is no blind follower, but instead challenges assumptions. And occasionally, if it suits his fancy, he will even help those in need and ask for nothing in return.
If I am to be his wife, I suppose I must accept all of who he is and come to terms with the fact that he is as unpredictable as the sea, as tamable as a tempest, and only as good as he chooses to be.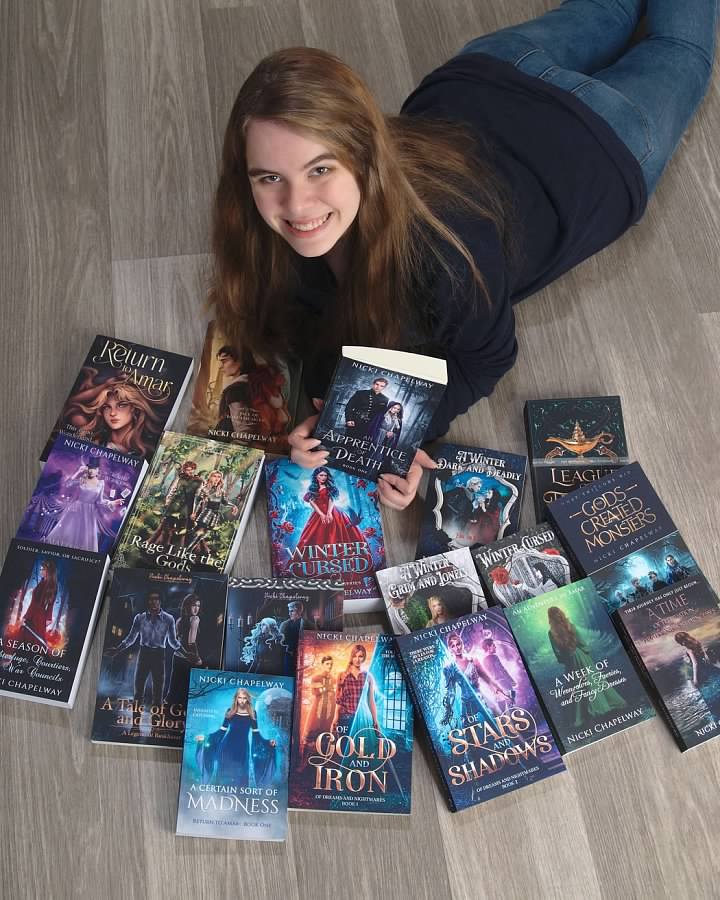 About
Nicki Chapelway
Nicki is a twenty-something author of romantic high fantasy. She has been writing since she was eleven, and has since published several works. She enjoys creating stories with twisty-stabby faerie romances, retellings that take a darker turn, and epic fantasies in worlds full of monsters and magic.

Nicki lives in Ohio where she spends far too much time watching TV, playing video games, and sleeping. She listens to music basically all the time, and adores obsessing over mythologies, her shows, and her slew of fictional boyfriends. When not writing, she can usually be found at her desk with either a paintbrush or a pen in her hand.

Newsletter: https://mailchi.mp/b6ec5f4a74a5/subscribe-to-my-newsletter