Bluebeard's Secret (The Complete Series Books 1-4)
Only 2 units left
Perfect for fans of Spinning Silver but with the dark humor of Santa Clarita Diet, this first-in-series romantic fantasy will grab you by the collar and pull you along into a world of magic and mystery that one reader described as "if Alice fell in love with the Cheshire Cat."
Free Shipping on U.S. orders of $150+
A STOLEN BRIDE. A TERRIFYING BRIDEGROOM. THE GAME THAT WILL DETERMINE THEIR FATES.

I'm a practical girl. I can resign myself to an unwanted marriage – and I had. I just hadn't expected my first potential bridegroom to be murdered by the second.
It's all because I broke the Law of Greeting.

No one warned me the law existed. No one told me breaking it would mean I'd be swept up into the arms of a powerful and beautiful immortal bent on taking me as his sixteenth bride and dragging me off to his strange fairytale world. That's a bit much to ask of a person.

But I'm not the kind of girl to just give up. Not even if it means facing all the strange puzzles and magic of this mad fae world with nothing but my common sense and determination. I will not mope in my room, or go crazy, or let myself be killed by one of his rivals. And I absolutely WILL NOT fall in love with him.

Not even when he keeps surprising me with depths of kindness and hidden layers.

Not even if it turns out he actually might have a good reason for all of this.

After all, he's had fifteen wives before me and it's not a case of "the more the merrier." Especially not now, when it turns out he's playing a game for the fate of my nation.
Failure in this world, would mean the desolation of everyone I love. Failure in this marriage, would mean utter destruction for my home.

The stakes couldn't be higher.

But I have a crafty husband, a severed-head best friend who gives surprisingly good advice, and the common sense my mother gave me. If that isn't enough to take on the whole of this fae world … well, it will just have to be. That's all there is to it. Because I'm not dying without a very good reason and I'm not giving up until I'm dead.

Come along on a wild romantic fantasy adventure with USA Today bestselling author Sarah K. L. Wilson, guaranteed to enthrall, delight, and maybe even surprise you.
Fly With the Arrow - signed hardcover with bookplate

Dance with the Sword - signed hardcover with bookplate

Give Your Heart to the Barrow - signed hardcover with bookplate

Die with Your Lord - signed hardcover with bookplate

bookmark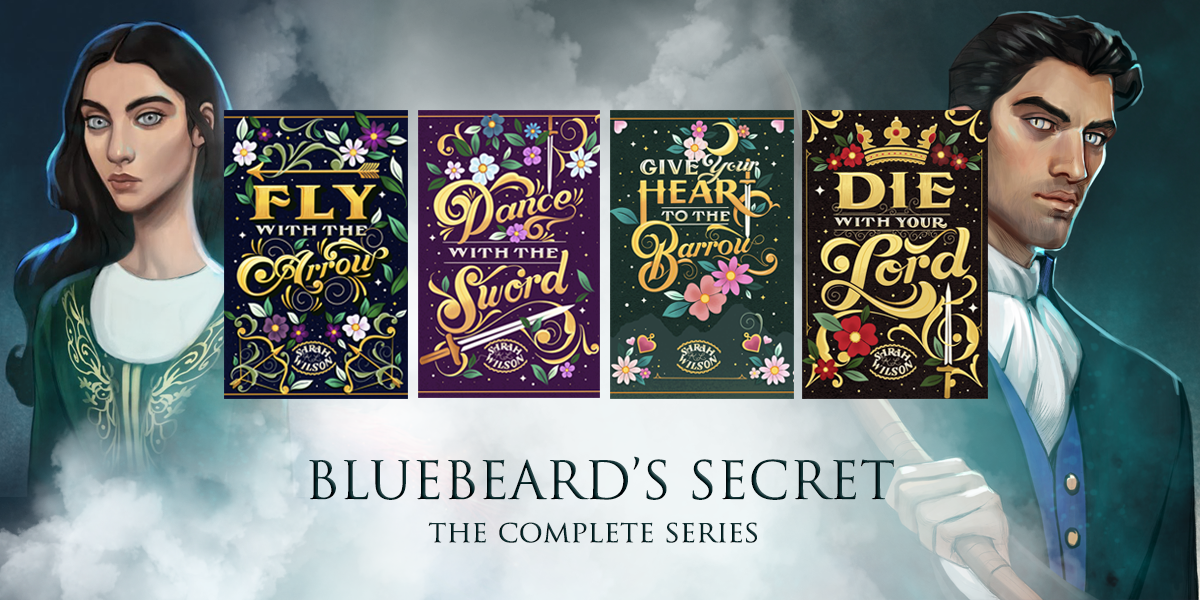 Preview
Bluebeard's Secret (The Complete Series Books 1-4)
We are the story of our choices, our grim failures, our crippled successes. We are the story of our molten passions, our loves and hates, our tears in the silence. We are the story of how others touched or shunned us, of loves returned, revenges enacted. When all flesh and glory melts away and there is nothing left of us, we will be only the story going on to what comes next.
About
Sarah K L Wilson
USA Today bestselling author, Sarah K. L. Wilson loves happy endings, stories that push things just a little further than you expect, heroes who actually act heroic, selfless acts of bravery, and second chances. She writes young adult fantasy because fantasy is her home and apparently her internal monologue is stuck in the late teens.
Wasn't expecting the signature to be a sticker in the book, a little sad about that because I've never spent as much on something signed before. I just expected the actual book to be signed..? I still love the books and series though! Officially my favorite, and I read A LOT!